Radiation Training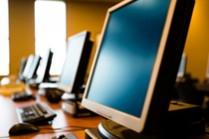 Individuals who want to use radioactive materials, lasers or irradiators are required to take Harvard-specific training before working with the radiation sources (radioactive materials, lasers, and X-ray devices). All training can now be completed online through the EH&S Training Management System.
Radioactive Materials
Radioactive materials users need to complete online Radioactive Materials Safety training before using radioactive materials. Online refresher training is required every two years.
Those who desire access to an irradiator need to follow the Irradiator Access-Approval Process.
Lasers
Use of a Class 3B or 4 laser requires completion of the Radiation Protection Office Laser Safety training before using a laser. Laser training is refreshed every two years. Users may choose to complete a laser pre-assignment eye exam (not required) prior to laser use (according to the laser pre-assignment eye exam instructions).
Lab-Made Laser Microscopes
Users of a lab-made microscope need to complete the full laser safety training noted above.
Commercially-Made Laser Microscopes
When using an unmodified commercially-manufactured laser microscope, users must complete the online Commercial Laser Microscope Safety training. However, if you service or adjust the laser of a commercial microscope or use a lab-made microscope, you will need to complete the full laser safety requirements.
X-Ray Devices
All X-Ray users need to complete online X-Ray Safety training before using X-Rays. Feel free to contact the Radiation Protection Office if you have questions about your specific setup.
On-line Training
Users with a Harvard University ID (HUID) should use the online EHS Training Management System to complete web-based training or view classroom training schedules.
Users without a HUID can create a Harvard XID to access our Training Management System. Instructions to do so can be found on the TMS website.
If you have questions, please call the Radiation Protection Office at 617-496-3797 or email radiation_protection@harvard.edu.
Did You Know?
The closer the cellphone antenna tower, the less the RF exposure when you use your cellphone? For further info on Cellphone Towers and Radiofrequency (RF),
CLICK HERE
.